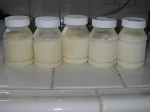 A blogger named Curtis claims to be on a diet consisting entirely of his wife's breast milk. It's an experiment to determine the suitability of the ideal newborn diet for an adult:
Preferring the taste of breast milk over cow's milk, Curtis said he drinks breast milk to settle digestive problems.

"And yes, I know how weird this may sound, it is kind of weird to me as well but why not?" Curtis wrote on his first post. "I mean cow milk was made for baby cows, why not drink human breast milk that was made for baby humans."
Some doctors are skeptical of this diet:
Dr. David Katz, director of the Yale Prevention Center, had even harsher words for the couple, going so far as to call the stunt "truly asinine."

"The rapid growth and brain development of early childhood is best fueled by the high-fat, energy-dense elixir of breast milk," said Katz. "There is no basis in all of nature to infer that it therefore is optimal food for adult mammals of any species."
News Story
and
Curtis's Blog
-via
Dave Barry