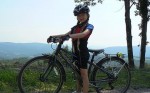 Skye Parnell is one amazing 7-year-old.  Not only did she bicycle over 600 miles, but she did it to raise money for charity.  Her and her family traveled from the UK to ride from Washington DC to Pittsburgh and back.
Her father Ben Parnell said: "She never complained and she cycled so hard. Even on the last day, which exhausted me, after we travelled 46 miles. She chose the charity because it was for children."
Next up for Skye and her family?  A bicycle trip through Holland.  They are hoping to get sponsorships to raise even more money for charity.
Laura Roberts has more:
Link
Photo: Skye Parnell, from Wiveliscombe in Somerset