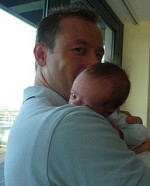 A Spanish law declared that women were entitled to schedule a half hour off of work per day for the first nine months after childbirth in order to facilitate breastfeeding. When a man challenged the law as discriminatory, a European court declared that fathers are entitled to the same right:
The Spanish man who challenged the law, Pedro Manuel Roca Alvarez, said his request to take breastfeeding leave from his job in Galicia was rejected because the mother of his child was self-employed.

The top court said such a refusal could have the effect of forcing self-employed mothers to limit their work because the father cannot share the burden.
Link
| Photo (unrelated) via Flickr user
Lars Ploughmann
used under Creative Commons license