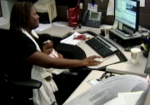 A Missouri company allows you to bring your baby to work with you.
At the National Association of Insurance Commissioners, babies up to 6 months old are welcome at work.
They call it their secret weapon. The company claims that the program allows them to retain and recruit the best employees. Employees love the program because they can continue to bond with their baby as well as save on childcare.
Link