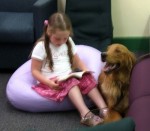 The Pima County Public Library in Tuscon, Arizona has a program that invites kids to read to dogs. This activity allows children to read stories to non-judgmental listeners, namely certified therapy dogs:
For many children, this allows them a rare chance to experience stress free reading. Once they are in this situation, children find themselves relaxing and having fun while reading! They come to think of themselves as good readers, which helps their self esteem and makes them eager to read. And eager readers practice their reading more often, leading to improved reading skill.

All of these elements work together to increase a child's motivation to read, which is an essential element in becoming a successful reader.
Link
via
J-Walk Blog
| Photo by Flickr user
Manchester Library
used under Creative Commons license