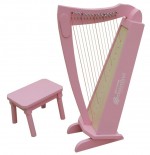 You have probably seen, and you might even own, a toy piano.   Now what about a toy harp?
The Schoenhut Piano Company famous for their baby grand pianos also makes kid sized harps. I can't say I ever thought about getting the kids one of these before.
At 27 inches high, this beautifully constructed, lightweight instrument is an excellent choice for a child's first harp. The design of its curved sides and spacious box, along with a range of 15 notes (from C to C), permits playing a wide variety of music in haunting, melodic tones. Fully tunable by way of zither pins and a zither pin wrench (included).
This is awesome.  I want to see one in person so I can try to play my own haunting melody.
They come in two different colors, but I was partial to the pink.
Link