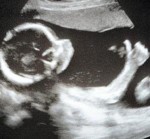 A twenty-week old unborn child gave his mother a distinct "thumbs up" gesture during a sonogram:
Marie Boswell, 35, says friends and family have been amazed by her son's distinctive 'ok' sign in the 20-week scan taken at Wythenshawe Hospital.

Marie, of Wythenshawe, Manchester, said: "It's really funny, the thumb is so clear - we can't believe it.

"I have big hands but nothing on the scale of his - he looks like he's wearing boxing gloves! We're thinking he might make a good goalkeeper.
You can view a larger image at the link.
Link
| Image: MEN/Daily Telegraph