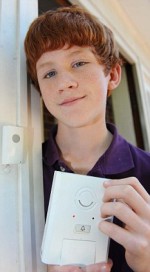 Laurence Rook, 13, was inspired by a TV show to design a burglar alarm that connects a home's intercom to a cell phone. This way, when a burglar rings the doorbell on a home while casing the area, the homeowner is notified and can speak from the outside intercom as though s/he is actually at home:
The device even produces a small amount of white noise to give any unexpected guest the impression they are speaking to someone inside the house on an intercom system.

The invention, which uses an inbuilt SIM card and existing mobile-phone technology, would also allow homeowners to give instructions to drivers making deliveries at their property.

Laurence has already sold 20,000 units to a telecommunications company.
Link
via
Blame It on the Voices
| Photo: Craig Hibbert