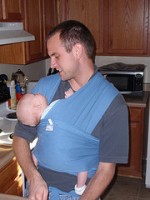 It's time for the R&D engineers at the
NeatoShop
to get busy, because Paul Starke has twelve great ideas for products that would be helpful for dads -- and probably moms, too:
4) Diaper Genie -- Yes, I know they already make this soiled-diaper storage unit, but what if it also granted you three wishes and had the voice of Robin Williams?

5) Snoozies -- Basically a onesie with a built-in snooze button. Is the baby crying in the middle of the night? Just tap the snooze button on his belly and get nine more minutes of sleep.[...]

7) Ambien-Coated Pacifiers -- Controversial? Probably. Effective? Definitely. I know for a FACT that my parents used to load me up with cough syrup before a long drive
What baby-care product would you like to see invented?
Link
| Photo by Flickr user
medigerati
used under Creative Commons license