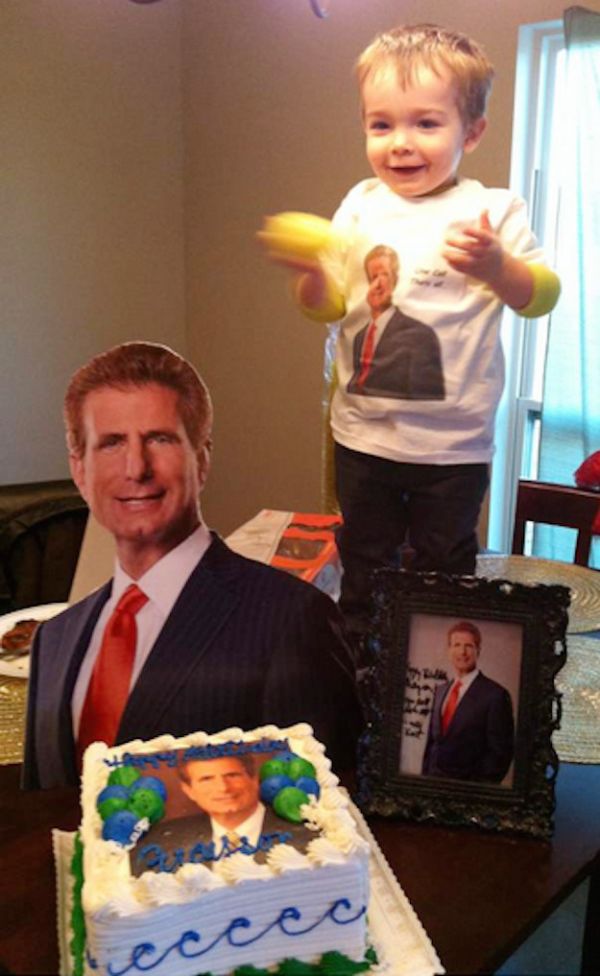 Kids latch onto the strangest things, but sometimes you just gotta go with it. Grayson always turned his attention when an ad for New Orleans personal injury lawyer Morris Bart came on. It was his favorite thing on TV! His mother L'erin Dobra noticed his fascination.
"Before he could walk or talk, every time the Morris Bart commercial would come on, he was just fixated," she says. "You couldn't talk to him. You couldn't do anything with him. He would just sit and stare at the TV. You could call his name, give him a toy. He didn't care. He just wanted to watch the Bart commercial. He's been that way ever since, and when he started talking he would say, 'One call' or 'Bart, Bart, Bart, Morris Bart, Morris Bart.'
So when Grayson's second birthday was coming up, his Dobra contemplated a party theme, and decided to focus on the lawyer. She contacted Bart's office through his website, and they sent a cardboard cutout, a signed photograph, and some office swag. Dobra had Bart's face put on the birthday cake. And it was all a super big hit with Grayson. See more pictures at Buzzfeed.
(Image credit: L'erin Dobra)