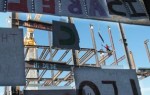 Kids who are staying at Seattle Children's Hospital are finding messages written to them in huge letters when they look outside their windows. Ironworkers assembling the frame of a new building outside the hospital have been spray painting greetings to the kids on steel beams:
And sure enough, there on a reddish-brown beam was a message an ironworker spray-painted only a few days ago. Its big bold letters said simply, "HI JULIAN."

A couple of rooms away, Zac Graling, a 16-year-old being treated for leukemia, looked out at another beam bearing the message, "HI ZAC." [...]

The new building's skeleton is alive with greetings to Kitty, Colby, Kyle and Istvan. To Violet, Seth, Josh and Austin. To Rachel, Adam, Gillie-Jane and Christofer.

"Each day we do another one — at least one," said Tim Hettich, a superintendent with subcontractor The Erection Co., made up of Ironworkers Local 86.
Link
-via
Ace of Spades HQ
| Photo: Alan Berner, Seattle Times