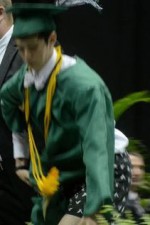 A teen's graduation prank gets him banned from school property for life. What was the terrible offense?  He dropped his pants and exposed the crowd to his boxer shorts.
Myers Park High School honor student Nicholas de la Canal had his clothing attached with Velcro so that when he got on the stage during Saturday's graduation, he could easily make  the pants slide down to his ankles.

As he bent over to pull up the slacks, he planned that his gown would split in the back exposing polka-dot boxers to the large crowd.

All went according to plan and an assistant principal quickly took de la Canal off the stage.
Do you think the punishment fits the crime?
Link