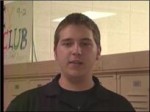 Is school board politics going to the teens?
Last week we posted about
Connor Kurtz
running for his local school board.   Now, take a look at Jed Gagnier.  Jed is a High School junior in Michigan.  This motivated teen just won a seat on his local school board.
Jed was one of four candidates for the Escanaba Public School Board and won as the highest vote getter with 152, based on unofficial results from the Delta County Clerk's Office.
Link