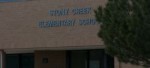 When you gotta go, please find the nearest restroom not located on a elementary school campus.
An unidentified man "barged" onto the campus at Stony Creek Elementary School in Littleton Thursday, forcing students and staff members to evacuate, officials said.

No, he wasn't a criminal fugitive or anyone out to cause harm to students. Officials say he was just trying to use the restroom.
Link