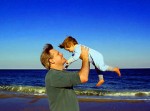 This is quite funny. Matthew Archbold notes that mommyblogging is a far more prolific field than daddyblogging, and that this is unfair. After all, it's harder to be a dad than a mom:
1) When we gain weight we can't blame the pregnancies.

2) When one of your daughters gets in a fight at school and your other daughter yells, "Sweep the leg Johnny" everyone blames you.[...]

5) "Wait until your Mommy gets home" just doesn't sound as scary. It just doesn't.[...]

10) When women see Dads out with kids they assume we're sensitive people who like to chit chat. We're guys. We don't chit or chat. When we see people we know we say "hey" but we don't stop moving. We never stop moving. We're like sharks in that way.
Link
via
Brian J. Noggle
| Photo by Flickr user
JeffS
used under Creative Commons license