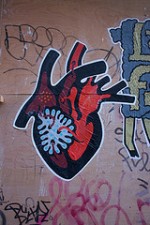 A fifteen-year old boy in Italy needed a new heart, but was ineligible for a human heart transplant. So doctors put in a new type of artificial heart that they expect will keep him alive for 20-25 years:
Dr Amodeo said the artificial heart was around 4cm long and had been placed inside the left ventricle and its connection with the ascending aorta.

He said: "The device is an electrically activated hydraulic pump and is entirely located inside the thorax, in order to reduce the risk of infection.

"It is powered through a plug positioned behind the left ear and connected to the battery that the patient holds on a belt and is charged during the night like a mobile phone.
Link
via
Gizmodo
| Photo by Flickr user
Peter Burgin
used under Creative Commons license