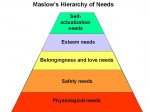 20th Century psychologist Abraham Maslow famously categorized human needs in
a pyramid
, from physical survival to self-actualization. Now a team of evolutionary psychologists proposes that the top slot should belong to parenting:
The new pyramid is based on the premise that our strongest and most fundamental impulse, which shapes our day-to-day desires on an unconscious level, is to survive long enough to pass our genes to the next generation. According to this school of thought, backed by considerable — though not irrefutable — evidence, all our achievements are linked in one way or another to the urge to reproduce.

In other words, aside from our powerful brains, we're pretty much like every other living creature.
Link
via
Glenn Reynolds
| Image: Georgia Perimeter College
Previously:
Maslow's Hierarchy of Robot Needs