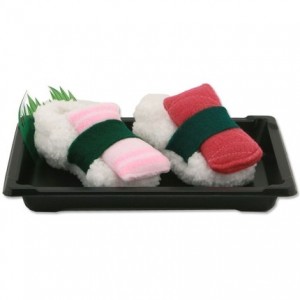 Etsy seller Sushibooties makes baby booties that look like sushi. The best part is they come packed in a bento box.
Sushi Booties are available in:
- Sake/Salmon (Orange)
- Toro/Fatty Tuna (Red-Orange)
- Maguro/Tuna (red)
- Spicy Maguro/Spicy Tuna (Pink)
- Tamago/Egg Omelet (Yellow-Orange)
- Hirame/Flounder (Pale Pink)
- Hamachi/Yellow Tail (Pink Stripe)
- Ebi/Shrimp (Shrimp guy)
What a fun gift for a Mom that grudgingly gave up sushi for 9 long months.
Link
Photo: Etsy seller Sushibooties