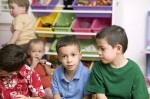 Lisa Belkin of Motherlode wrote an interesting little piece on the rising cost of childcare.  The article refers to a study released last week by the National Association of Child Care Resource Referral Agencies.  That study asserts that childcare is now more expensive than the tuition for a public-university.
In 40 states the average annual cost for an infant in center-based care was higher than a year's tuition and fees at a four-year public college. In Massachusetts, the yearly infant care cost exceeded the yearly cost of tuition and fees by $9,533; in New York, Wyoming and Washington, D.C., the infant-care costs were more than double the college costs.
With childcare costs this outrageous isn't it time we started to hold daycare facilities to higher standards?  The least they could do is throw in a little SAT prep before nap time.
Link