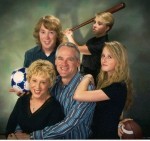 They say a picture is worth a thousand words, but I think an awkward family portrait is worth so much more.  Seriously, this photo is at least worth a short story. Maybe even a novel. Possibly something in the horror genre.
Are you feeling the family love in this picture?
This photo is from Awkward Family Photos hall of fame.
Link