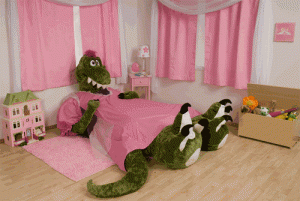 Incredibeds has designed special attachments to turn your kids bed into a giant stuffed animal.  They come in a variety of different styles for both boys and girls. Below is a fun YouTube video on the product.
YouTube
Link
Wait there is more. They also make outfits for them that have pockets on the side to hold books. The video below shows how to dress them.
YouTube
Link
These are seriously funny.  Where were these when I was little?
I think this is a must for every cool grandparents house.
Link