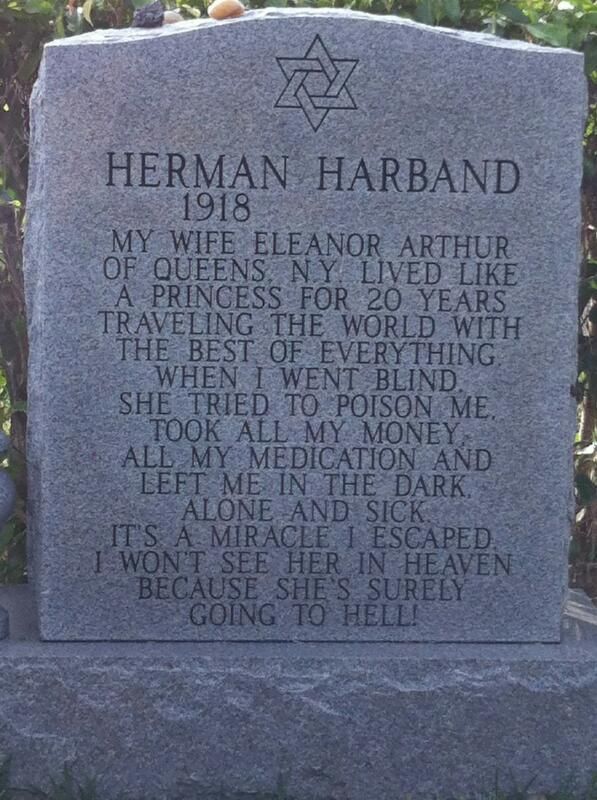 Herman Harband commissioned his own headstone ahead of time to be placed on his grave when he died. It was ready for him at Beth David Memorial Gardens in Hollywood, Florida. The inscription reads:
My wife Eleanor Arthur of Queens, NY lived like a princess for 20 years traveling the world with the best of everything. When I went blind, she tried to poison me, took all my money, all my medication and left me in the dark alone and sick. It's a miracle I escaped. I won't see her in heaven because she's surely going to hell!
However, Harband remarried. When he died in 2011, his second wife Domnita had him buried in a couple's plot in Raleigh, North Carolina, with a different stone. See his actual grave. According to Find a Grave:
Herman Harband was not buried at Beth David Memorial Gardens, but he did own a headstone at the cemetery, thus making it a cenotaph, not a grave. The internet-famous headstone is real (confirmed by records and the cemetery director), but it was removed in early 2014 and the plot was sold back to the cemetery at the request of his wife. According to the cemetery directory, the headstone (as of this writing) is in storage at the cemetery.
-via reddit