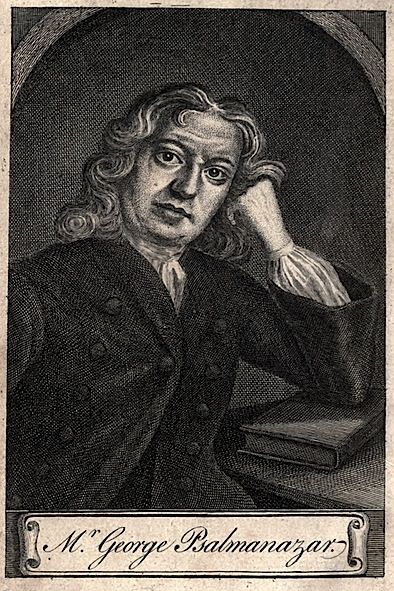 How one man formalized his gibberish and fooled Europe's scholars.

Nobody knew what to make of George Psalmanazar. From the day he arrived in London in 1703, his pale features, shabby dress, and raw meat diet raised eyebrows. Stranger still was the way he worshiped the sun and moon, his unusual patter, and the odd symbols he scribbled.

Psalmanazar was accompanied by Alexander Innes, a Scottish priest eager to introduce the boy to London's scholars. The two had met in Holland, where Innes was serving as an army chaplain. Psalmanazar was an oddball local who claimed to hail from the island of Formosa- what Europeans called Taiwan at the time. As he told it, he'd been kidnapped and brought to Europe by a Jesuit missionary. Now, Innes planned to take credit for converting the heathen, knowing it would do wonders for his career.

Psalmanazar was full of fascinating tales, but his most unusual quality was his dialect. His Formosan used 20 characters, some of which resembled Greek and Hebrew letters, intriguing scholars interested in the migration of language. He spoke Latin as well, but it was blurry in comparison with his flawless "native tongue." Psalmanazar would credit the rote memorization he'd been drilled in as a schoolboy for his rise as Europe's most famous Formosan. Which he undoubtedly was- though he'd never set foot in Formosa.
Continue reading