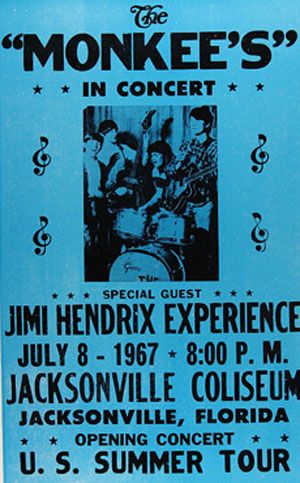 Neatorama presents a guest post from actor, comedian, and voiceover artist Eddie Deezen. Visit Eddie at his website or at Facebook.
In the wild and crazy history of rock music, many strange, bizarre and quite unbelievable things have happened.

Elvis being shot "from his waist up only" on The Ed Sullivan Show in 1957, the Beatles and John Lennon's "We're more popular than Jesus" controversy of 1966, and the Bing Crosby-David Bowie duet of "The Little Drummer Boy" for Bing's 1977 Christmas TV special.

It was in this world of insanity that seems to define rock, that the most uniquely odd, almost surreal, tour in rock history took place.

From September 8th to September 16th, 1967, Jimi Hendrix went on tour with the Monkees.

In 1967, the Monkees were the hottest rock act in the country. They not only had a hugely popular hit television show, but, incredibly, they were at this time outselling the Beatles and the Rolling Stones- combined! In fact, by the end of '67, the Monkees had become the only act in the history of rock music to have had four number one albums in the same year (The Monkees, More of the Monkees, Headquarters, and Pisces, Aquarius, Capricorn & Jones Ltd.).

By September of 1967, the Monkees were also seasoned stage performers, having become a "touring act" in December of 1966 -and yes, playing their own instruments.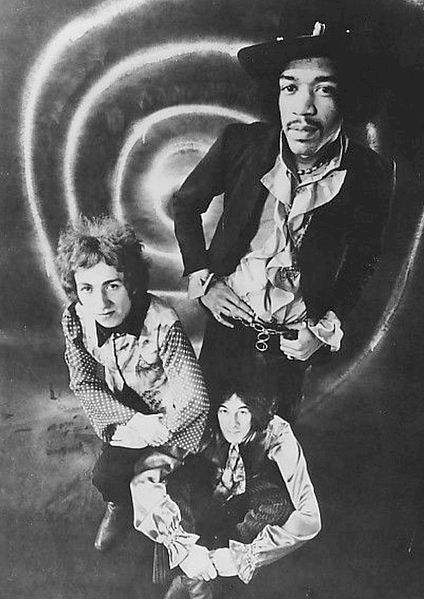 Micky Dolenz was the first Monkee to discover Jimi Hendrix. Micky was told by a friend that there was this black musician who "played the guitar with his teeth." Fascinated and curious, Micky went to New York's famed Village and witnessed Jimi playing guitar with the John Hammel Band, indeed, with his teeth.

Micky and fellow Monkee Peter Tork were both to see Jimi play live later that year, at the Monterey Pop Festival.
Continue reading