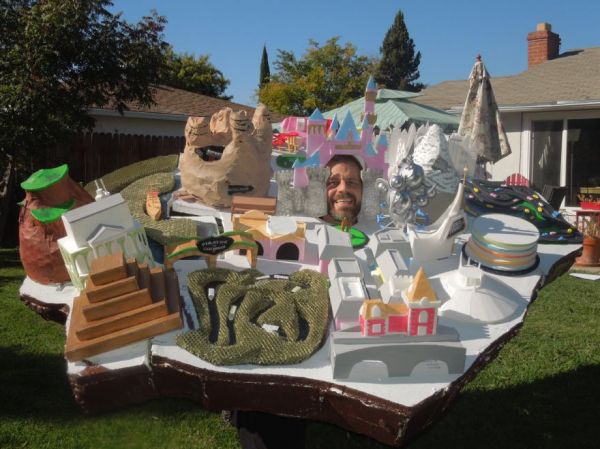 Rob Cockerham of Cockeyed goes all out for Halloween costumes, and his homemade creations tend to win contests left and right. This year, he is Disneyland! He constructed a miniature replica of the theme park, made to wear at an angle, so people could see it. That's his face sticking out of Sleeping Beauty's castle.

You can also see Space Mountain, Star Tours, Pirates of the Caribbean, Autopia, the Mark Twain steamboat, Fantasyland Theater, the Innoventions building, the Astro Orbiter, the Jungle Cruise, and the Dumbo ride, among smaller details. The structures of the Matterhorn, Splash Mountain, and Thunder Mountain have moving animations. Can he walk around in it? Yes, but he cannot lift his own drink. Doorways may be a problem, too.
To see more pictures of the final costume, you'll want to skip to page 17 of Cockerham's tutorial. This is going to be in a costume contest Saturday. Wish him luck! -via Metafilter
---

We hope you like this article!
Please help us grow by sharing:
Get Updates In Your Inbox
Free weekly emails, plus get access
to subscriber-only prizes.
We won't share your email. You can cancel at any time.