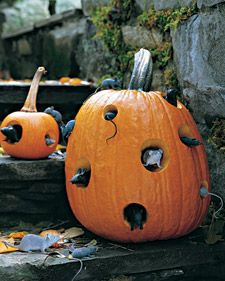 If you're tired of the same old carved pumpkin looks, or you'd like to add a touch of whimsy to your Halloween decorations then check out this Mouse Motel tutorial and let the rodent inspired fun begin!
And if mice aren't to your liking you can easily use something more sinister, like snakes or mini monsters, or add some grisly pasta guts and gross out the neighborhood.
It's an easy and fun way to give your jack-o-lantern that lived in look, instead of the same old carved face.