Profile of active authors, listed in chronological order of joining.
Alex Santoso
Alex started Neatorama in August of 2005 as a hobby blog. Little did he know that it would grow to be an obsession (and hopefully, a success). Alex is a scientist (he has a doctorate in Biochemistry and Molecular Biology from University of California at San Francisco), a small business owner, and most importantly, a husband (to a very understanding wife Tiffany) and a
dad
.
If you really want to know, Alex is probably one of the youngest recipients of a doctorate degree in science (at a tender age of 25). He's now older and somewhat wiser, though he still pines for the good old days of studying prions in the laboratory.
Since August 9, 2005.
S--------------------------------
Miss Cellania
Miss Cellania is a full-time blogger and the managing editor of Neatorama. She produces the humor blog
Miss Cellania
. In addition to Neatorama, she is also a contributing team member at mental_floss. In her spare time, she hangs out with her husband, three teenagers, four cats, two birds, a dog, and a horse.
Since October 12, 2006.
S--------------------------------
John Farrier
Since November 15, 2007
S--------------------------------
StacyBee
Blog
:
i met a possum
Stacy Conradt is a freelance writer who spends a lot of time scribbling things out for mental_floss and Neatorama. Along with her husband, she is the proud owner of three ridiculously ornery dachshunds. In her spare time, she likes to play Rock Band and Guitar Hero, run in the frigid Iowa winters and attempt crafty endeavors that never turn out right. She also babbles on her
personal blog
from time to time.
Since December 13, 2007
S--------------------------------
Jill Harness
Blog:
Rue the Day
Jill Harness is a freelance writer with a degree in Journalism. Aside from working on Neatorama, she also writes for InventorSpot, as well as her own blogs,
Rue The Day
and Muttskis. She is actively seeking additional writing assignments and welcomes any offers to contact her at her
professional website
. Outside of writing, Jill's hobbies include playing with her Chinchillas, taking her dog on long walks, visiting Disneyland with her fiancée and reading zany blogs and books. She also enjoys cooking, listening to music and playing video games.
Since November 16, 2008
S--------------------------------
Adam Koford
Blog
:
Hobotopia
Adam Koford is a freelance cartoonist and story artist for Disney Interactive. When he's not drawing magazine illustrations, greeting cards, or storyboards for video games, Adam wrangles a couple of filthy hobo cats in his daily webcomic the Laugh-Out-Loud Cats. A collection of the comics was published by Abrams ComicArts in 2008. When he's not drawing, he enjoys video games, old movies, and spending time with his wife, kids, and real-life non-cartoon cats.
Adam is also a contributor to
Drawn.ca
and
RobotsandMonsters.org
.
Since January 2010
S--------------------------------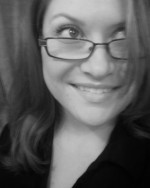 Adrienne Crezo
Adrienne Crezo is a writer of non-fiction, short fiction, literary reviews and to-do lists. She is a regular contributor to 
MentalFloss
and 
Geeks Are Sexy
, a voting member of the National Book Critics Circle and member-at-large of the Oklahoma Writers Federation, Inc.
Online, she can be found on her site (
AdrienneCrezo.com
), but in real life she usually just hangs out near the coffeepot.
Since May 26, 2011
--------------------------------