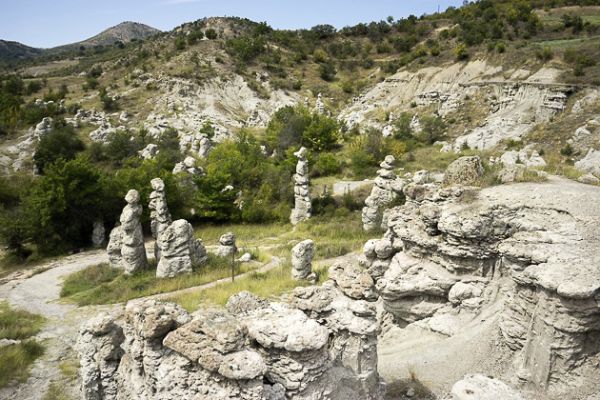 In Macedonia, there's a rock formation called the Stone Dolls of Kuklica. They look like a crowd of people standing (although much larger). The legend behind the stones goes like this:
Once upon a time, long, long ago, a village girl was anxiously awaiting her wedding, which was scheduled for the afternoon. Having prepared everything days in advance, the girl wasn't sure how to fill the morning hours. She'd heard about another wedding in the neighboring village and decided to see the happy couple who were sharing her special day…

Imagine her surprise upon discovering her groom-to-be, marrying another woman! Furious, she interrupted the wedding, and her betrothed sputtered, trying to explain. He loved both women, but for different reasons: one for her beauty and one for her wealth. In the end, he'd decided to marry the uglier, richer woman. The pretty young girl, betrayed, spat out a horrible curse, instantly turning the groom, his new wife, the priest, the wedding guests, and even herself into stone.
But there's a perfectly logical, if not quite as magic, explanation for the formation. Still, you can pick out which stone pillar was the bride, groom, and the officiant, as well as their wedding party and guests. Take a tour of the the Stone Dolls of Kuklica with Jürgen Horn and Mike Powell; they've got plenty of pictures and video, at For 91 Days.