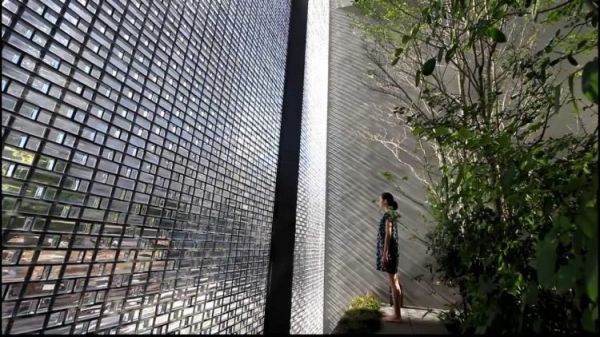 You won't see the residents of these houses throwing stones! But you may see quite a bit of other stuff. Houses made of glass, or that display a lot of glass, are beautiful but terrifying. I once had an upper-floor apartment with one entirely glass wall, and everyone would get woozy standing close to it. We ended up filling it with houseplants to form a "no standing" zone, because curtains would be too expensive. Anyway, there are people who don't mind the view, and don't mind that passers-by can look inside. The exception on this list is the pictured sort-of-private glass house in Hiroshima.
Constructed in 2012 from 6,000 blocks of borosilicate glass, the Optical Glass House was designed by Hiroshi Nakamura to create a serene oasis for residents in a highly congested part of the city. Due to the 13-ton weight of the glass blocks, the home is centered around a steel beam reinforced with concrete. While light constantly filters through the 3,900 sq. ft. home, the blocks of glass (measuring 50 mm x 235 mm x 50 mm) effectively shut out outside noise.
And while you can see in, you can't see well enough to get a floor show. That's not the case with the other nine houses on a list of glass houses from around the world.