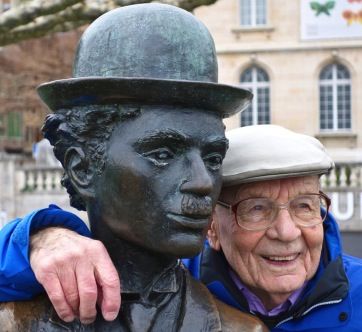 George White was born in 1920. Last week he spent his first Christmas in 67 years without his beloved wife Mima. To help him through his bereavement, his grandson invited him to visit Switzerland. And so, at the age of 92, Mr. White procured his first passport ever, boarded a plane for the first time since World War II, and set off from his home in England for a holiday with his grandson. What's really special is that Mr. White is blogging about his trip, and his posts are quite charming with a mixture of delighted sightseeing and memories of the past.
It amazes me where the Swiss are able to build their houses, perched way up the slopes, the occupants must have a view out of this world. It reminds me of a football stadium, this lovely Town and lake in the centre as the pitch with the mountains as stands and terraces thrown up to sky all around.

We start walking along the lake, I have my stick and can't walk very far, but there is something I must see, a statue of a renowned comic and entertainer in my former years, Charlie Chaplin. I remember his baggy trousers, big feet, funny walk and twirling cane. He was our hero, he made us laugh. We would collect a bundle of sticks in the local wood, sell them to a neighbour for a penny, then walk two miles to to the local picture house to see Charlie, it was silent films in those days, talkies weren't invented then.
Mr. White did not indicate how long his stay will be, but I'll be following every entry. Link -via Metafilter