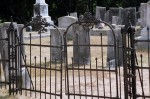 It's that time of year, when we look to graveyards for tales that scare the Dickens out of us. You've read about
9 Creepy Places to Visit for a Good Scare
and you've seen lists of haunted houses. Now how about cemeteries? These six stories don't
all
contain ghosts -some are about vampires, poltergeists, and unidentified flying objects! Shown here is Chesnut Hill Cemetery in Rhode Island, the site of a vampire exhumation in 1892.
Chesnut Hill Baptist Church Cemetery in Exeter, Rhode Island is reported to be haunted by a vampire named Mercy Lena Brown. She was preceded in death by her mother and sister, victims of tuberculosis, and Mercy would often visit their graves. In January 1892, 19-year-old Mercy herself fell to tuberculosis and was interred with her family members. Mercy's father George claimed she haunted him every night, complaining of hunger. His son Edwin fell sick, also with tuberculosis, but as he experienced visits from Mercy, the family and townspeople considered the cause of his illness to be the restless dead. George Brown, with the help of others, dug up the graves of his wife and two daughters on March 17, 1892. Only Mercy, who died in January, was free of decomposition. This led George to believe she was a vampire.
Read what happened then, and other tales, at mental_floss.
Link