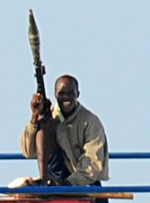 All day, every September 19th, we celebrate Talk Like a Pirate Day by basically saying "Arrrr!" But that sort of language is from another time and place (mainly Hollywood) -modern day pirates don't talk like that. Real pirates in the modern world are liable to speak Somali, or other languages heard around the Horn of Africa.
The Horn of Africa is without question the hotbed of piracy today. A quick glance at the International Maritime Bureau's Piracy Reporting Centre Live Piracy Map shows a dense thicket of attacks, and even though some analysis indicates that the areas of attacks may be decreasing in size, and that the frequency of successful attacks is decreasing, the density of attack is increasing and the risk  of attacks remains high. And the focus of this activity remains Somalia.

What languages are these pirates saying? Based on the IMB's reported risk zones, and country data for Somalia from the CIA's World Factbook, they are probably speaking in Somali, Arabic (probably a Yemeni dialect), Italian (a vestige of Somalia's colonial heritage) or English.
Wired's Danger Room blog has a handy chart with common phrases you may need if you encounter these pirates, in English, Somali, and Yemeni.
Link
-via
Boing Boing