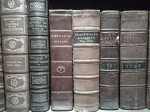 Since 1982, the English Department of San Jose State University has invited people to write terrible opening lines for novels, most of which are presumably never written. The contest is named after Edward George Bulwer-Lytton, who infamously began his 1830 novel
Paul Clifford
with the trite line "It was a dark and stormy night".
This year's winner, composed by Sue Frodie, was this delightful sentence:
Cheryl's mind turned like the vanes of a wind-powered turbine, chopping her sparrow-like thoughts into bloody pieces that fell onto a growing pile of forgotten memories.
You can see the runners up and winners in genre categories at the link. My favorite is from Andrea Rossi, who was the runner up for the category of historical fiction:
The executioner sneered as the young queen ascended the stairs to the guillotine; in the old days, he thought, at least there was some buildup, a little time on the rack or some disemboweling, but nowadays everyone wants instant gratification.
That's
so
true. I blame video games for this tendency.
Link
-via
The Hairpin
| Photo by Flickr user
markhillary
used under Creative Commons license
Previously: the
2010
,
2009
,
2008
, and
2007
winners