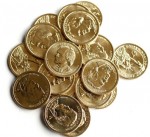 The U.S. Mint is manufacturing, and will continue to manufacture, one dollar coins that just pile up in the Federal Reserve because no one wants to use them. They've already stockpiled over a billion dollars in coins, and may reach two billion!
In 2005, Congress decided that a new series of dollar coins should be minted to engage the public. These coins would bear the likeness of every former president, starting with George Washington. There would be a new one every quarter. So, far, the Mint has produced coins through the 18th president, Ulysses S. Grant.

Members of Congress reasoned that a coin series that changed frequently and had educational appeal would make dollar coins more popular. The idea came from the successful program that put each of the 50 states on the backs of quarters.
The reserve also has plenty of Susan B Anthony and Sacagawea dollar coins. If the public does not want to use dollar coins, why are they being made? The answer is a bit complicated, and is explained in this article at NPR.
Link
-via
Breakfast Links