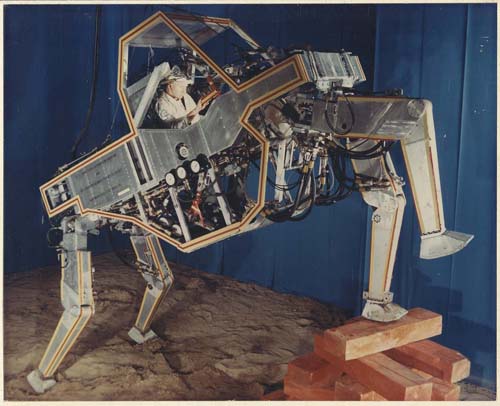 Does this remind you of a certain Imperial Walker from the movie
The Empire Strikes Back
? In 1962, General Electric conceived the Cybernetic Anthropmorophous Machine (CAM), which became known as the Walking Truck.
The Army liked what GE had been testing and awarded a contract for building the experimental vehicle in 1966, a year after America began sending troops to Vietnam. But the same super-sensitive, hand-and-foot-controlled hydraulics that enabled the CAM to casually push aside a jeep, or gently paw a GE light bulb without breaking it, also made it impractical for prolonged battlefield use. Operators found the constant manipulation of the controls very fatiguing, leading the project to be mothballed.
In additional to the fictional AT-AT, this reminds us of
BigDog
from Boston Dynamics. See more pictures of the CAM at GE Reports.
Link