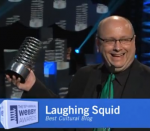 Writers are constantly told of the importance of editing: say it in fewer words. At the Webby Awards ceremony last weekend, the representatives of the winning websites were limited to an acceptance speech of only
five words
. Each had to really think about what was important to say. Some speeches were funny, some political, some designed to leave a memorable impression of the website behind. And they came up with some gems, like this speech from
Scott Beale of Laughing Squid
(pictured):
"These tentacles go to eleven!"
TIME magazine made of list of what they considered
the ten best speeches
.
3. Kids, we're going to Disneyland.
—Jetsetter won a Webby for Best Travel website.

8. Person of the Year. Ironic.
—The Webby Person of the Year Award went to IBM supercomputer Watson, who cracked wise with the audience.
What if
you
were given the opportunity to speak before a large audience, but could only say five words? What would you say to leave an impression? You can read all the winners' 5-word acceptance speeches at the Webby Awards site.
Link