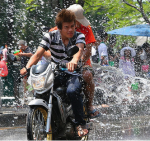 Places all over have different ways of celebrating the end of winter and the return of warm weather every year. What could be more fun than a spring-cleaning holiday that includes a water fight? That's what's happening in Thailand during Songkran.
On April 12th, old or useless items are thrown out of houses and burned to avoid bad luck, and on the 13th offerings are made to statues of Buddha at the local wat. The Buddha statues are then washed with perfumed water, and Buddhas from important wats are paraded through the streets where the crowds throw more water on them. The water-fight begins in earnest after this, with people dousing each other with buckets and super-soakers on the street.
See videos of Songkran and other spring celebrations at AnyTrip.
Link
-via
Dark Roasted Blend
(Image credit: Flickr user
Wyndham Hollis
)