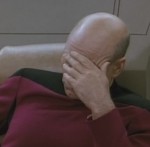 News.com.au got schooled in the ways of Star Trek fandom when they posted an
article
containing errors about the Trek universe. Today they printed an apology with corrections.
News.com.au apologises unreservedly for the error.

There was no intention whatsoever to suggest Captain Kirk may have commanded the Galaxy Class Starships Enterprise-D and Enterprise-E.

Any damage to the Star Trek brand incurred by the use of the term "hyperspace" is regretful.

No malice was intended and a correction to the original article will be made.

We also agree that Patrick Stewart is a handsome man, a sentiment expressed by several readers.
The kicker is that, intentionally or not, there are at least nine errors in the apology.
Link
-via
Metafilter