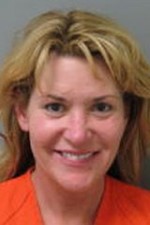 Kelly Moss of Germantown, Tennessee was arrested on suspicion of drunk driving when police officers found her parked on the sidewalk and slumped over the steering wheel. The 48-year-old was unable to stand and could not complete a field sobriety test. What had she been drinking?
An officer noticed partially empty bottles of vanilla extract, labeled as 35 percent alcohol by volume, and Diet Coke in the front seat, and they said they smelled a strong vanilla odor on the woman's breath. A grocery receipt found in the vehicle listed two 8-ounce bottles of vanilla extract, purchased Wednesday.
This is Moss' third DUI arrest.
Link